Bouncer

A Bouncer is an object that is very similar to a
Floor
. A particle hitting a bouncer will bounce off like a tennis ball. However, unlike a
Floor
, a bouncer is a line segment that is added by a press/drag/release sequence as in the
Segment
mode. Bouncers are very powerful objects for creating environmental limits to a simulation scenario. The following picture demonstrates a bouncing ball inside a polygonal region. Each edge of the region is an individual bouncer.
| | | | |
| --- | --- | --- | --- |
| | | | |
| Starting a mass in a polygonal region | | | The trace of the mass |
Bouncers are also essential for many physically oriented games that one might be interested in implementing in
CindyLab
, such as billiards and table tennis. The following picture shows a simple scenario in which bouncers and
Gravity
are combined.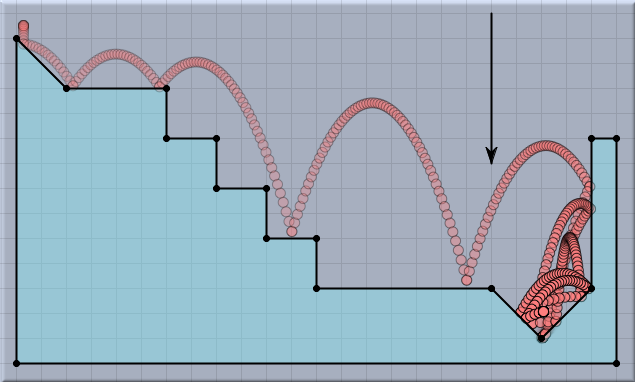 A ball on a staircase
Inspecting Bouncers
The bouncer inspector is almost identical to the
Floor
inspector.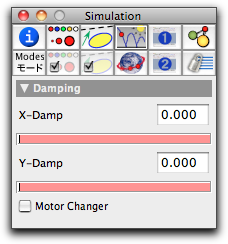 The bouncer inspector
In addition, it has a checkbox
Motor Changer
. If this box is checked, the animation direction of the internal spring actuators will be reversed whenever a particle hits the bouncer. For details on the actuation see
Spring
and
Environment
. This behavior would be very useful in the construction of walking engines that reverse their direction whenever they hit a wall.
Bouncers and CindyScript
Like any
CindyLab
object, a bouncer provides several fields that can be read and set by
CindyScript
. The following list shows the accessible fields for bouncers:
| | | | |
| --- | --- | --- | --- |
| Name | Writeable | Type | Purpose |
| xdamp | yes | real | handle to the X-damp factor |
| ydamp | yes | real | handle to the Y-damp factor |
| simulate | yes | bool | turn on/off simulation for the floor |